reinvention
. Every once in a while, you need to reinvent yourself to keep things fresh and current. For example...
In 2005
, I got married. (Four years ago today. Happy anniversary, honey!)
In 2007
, my first book was released. (Penguins! Doom! Yay!)
In 2008
, our daughter was born. (And she gets more beautiful every day. Just like her mom. Did I mention that it's our anniversary today?)
These were huge transformations in personal identity and lifestyle, and way, way, way for the better. As a result I'm almost a completely different person than I was five years ago, and there are more changes to come. Here's a sneak peek...
In 2009
, I go back to school for a master's degree in teaching. (I've started a
new blog
to talk about that.)
In 2010
, I'm co-chairing the 24th annual New England SCBWI conference in (drumroll please) beautiful Fitchburg, Massachusetts!
In 2012
, I reveal myself as a cyborg sent back from the future to kill
John Connor
.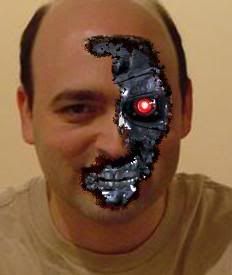 I can't wait to see who gets cast to play me in the movie version. Thanks,
TerminateYourself.com
!
Today's word of the day is